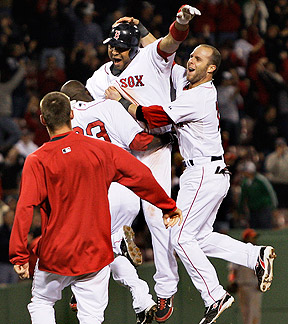 AP Photo
Gonzalez Finishes Off a Win Sent from Heaven
Oh, what Mike Scioscia must be thinking this morning. The Angels can't seem to buy a win against the resilient Red Sox, regular season or postseason. The dirt dogs from Boston have ended the Halos' season three out of the last five years in the Divisional Round, and they may have set the tone for this season's match-up as well.
Even I, from my seat in Right Field Box 86, was expecting a strike-out motion from the home plate umpire on Nick Green's game-tying walk in the ninth. It was a Brian Fuentes fastball perfectly spotted on the lower half of the strike zone, but the baseball gods seemed to smile down on the home team, and let this one slide. Scioscia was livid, as was the entire Los Angeles of Anaheim dugout, and for good reason. It should have been a strike-out, and everyone knew it. Terry Francona knew, Green knew, Fuentes knew, and as I found out when I got home early this morning, the ESPN K-Zone knew. But alas, this is Fenway Park in the fall, and magic is in the air.
This was a statement game for the Red Sox. Kevin Youkilis was out for the second straight game with a sore back. Victor Martinez missed his second straight while attending to a personal matter in Cleveland. Jonathan Papelbon was unavailable due to lower back stiffness. Somehow, without their all-star closer and numbers three and four hitters, Boston pulled out the victory. Every position player on the roster, with the exception of Youkilis, Martinez and third catcher George Kottaras (who would have caught the tenth inning) played a role in this win. The three most pivotal at-bats, all in the bottom of the ninth inning, were executed to perfection by Boston's three shortstops: Jed Lowrie, who had a pinch-hit single, Nick Green, who walked to force in the tying run, and Alex Gonzalez, who blooped the game-winner into shallow left-field.
The Angels had the Red Sox on the ropes. They had powerful southpaw Joe Saunders up against Boston's weakest starter, Paul Byrd. They had leads on three seperate occasions. They had their closer on the mound with a lead in the ninth. And yet, despite all the advantages on their side, the club from the west coast couldn't pull out the win against the mighty Red Sox. Mike Scioscia must have had a very sleepless night.