Red Sox Split Series with Yankees
Jon Lester went 6 1/3 giving up 4 hits and 0 ER to lead the Sox to a 2-1 victory and salvage a split. Jacoby Ellsbury had 4 steals in the game, finally making a contribution after a dismal start since coming back from injury. Bard and Papelbon closed out the 8th and 9th with authority, striking out 5 of the last 6 Yankee batters. The win puts the Red Sox 4 games behind Tampa Bay for the Wild Card and 6 behind the Yankees in the division. The Sox head to Toronto tonight, while the Nation will be keeping a watchful eye on the Rays' series with Detroit this week.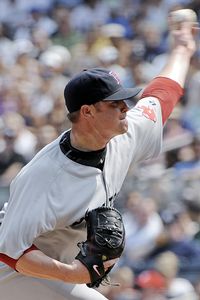 You may also like...