Winter Classic Buzz Starting To Heat Up
Hockey Set To Come To Fenway
The game is set, the ice is cold, and the rink is built.  Its almost time for hockey at Fenway Park.
With two weeks left before the Boston Bruins and Philadelphia Flyers square off in the third annual Winter Classic, attention to the outdoor event is growing.  Even with the Boston Red Sox hogging the headlines for the past week along the Charles River, the Bruins still find themselves as the number one topic of discussion on the streets of Yawkey Way and inside the walls of Fenway.
With the Green Monster lurking in the background, the ice and rink has been placed across the infield and outfield of Fenway, opening up opportunities for former Bruins and current Red Sox alike– to take a test skate on the ice surface.
Bruin legends Bobby Orr, Cam Neely, and Ray Borque laced up the skates to test out the "First Skate at Fenway" alongside Red Sox captain, Jason Varitek, on Friday.  
The Bruins (16-10-6) look to snap a two-game losing streak with a game against the Chicago Blackhawks on Friday in a matchup of two Orignal Six teams, as the Black and Gold may be looking for a little good will and luck from the old-timers skate at Fenway.  The B's have seven more games until the highly anticipated Winter Classic.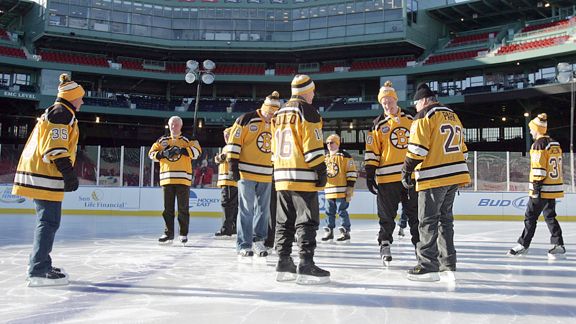 (AP Photo) 
You may also like...